Description
Memory Foam V-shaped Bamboo Pillow
Orthopaedic Support
Our V-shaped bamboo pillows are made from heavy duty memory foam inner-core & anti bacterial organic bamboo fabric cover. These pillows offer excellent comfort to keep your neck, back, shoulder and spine in correct alignment.
Multi Utility Pillow
This memory foam v shaped pillow is ideal for pregnancy and can be placed around your waist when feeding young babies, you can also use this pillow whilst reading in bed or for general support. The polyurethane memory foam is firm and takes all the beating imaginable without losing its shape. It also helps to ease tensions is back muscles.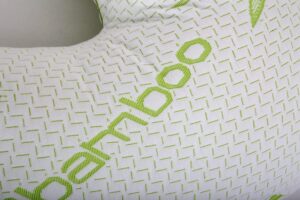 Made From Sustainable Materials
The bamboo fabric is one of the most sustainable materials available. In light of this we have come up with a pillow that has a very little environment impact.
Hypoallergenic

Orthopaedic support

Ideal for pregnancy

Removable bamboo cover

Promotes a healthy posture

Neck Support Pillow

Ideal for reading in bed or general support

Size: Outer Leg 76cm — Inner Leg 47cm