Description
Luxurious Imperial Bamboo Memory Foam Mattress
a cooler nights sleep, night after night.
Memory foam was invented by NASA to reduce cabin pressure during take-off,
and its potential was soon spotted by bedding manufacturers! Those dense,
heat-responsive properties make it perfect for giving a firm sleeping surface,
reducing resistance, relieving pressure and letting your body find a natural
shape.
What make our mattress so special :
Technology for a good night's sleep
Memory foam
Memory foam was first designed in the 1960's for Nasa plane seats.
The average memory foam mattress literally has millions of tiny holes and air escapes from these as the foam moulds to itself around the body.
This action is activated by pressure and body heat, and results in a foam mattress that offer total independent support without pressure points.
Memory foam is hypo-allergenic and dust mite resistant creating a healthier sleeping environment.
Cool Hard Blue Foam 
Cool Hard Blue Foam consists of an advanced P.U based foam.
It is one of the latest developments in foam.
It has the same pressure relieving benefits and body moulding properties as memory foam but without any heat, and because it doesn't retain heat, its returns to its original shape much quicker.
Hard Blue foam is also high density foam ,but is constructed in a different way using larger bubbles.
When pressure is applied to these bubble they act in a similar way to water in a balloon-the air does not escape, and instead is displaces 'sideways'.
Once pressure is relieved, the bubbles spring back into shape and the mattress retains its shape.
It's for this reason that the Blue foam mattress is as popular as an orthopaedic mattresses it offers a firm but comfortable mattresses option.
Blue foam also been found to be one of the best supportive layers/base foams to be used in the manufacture of many foam mattresses.
Imperial bamboo fabric  
Our fabric is unique, very  soft and cool fresh adding to a wonderful sleeping experience.
Imperial Bamboo fabric including this revolutionary fabric in their range to
help you sleep more comfortable.
It works by removing moisture away from your body allowing for more
evaporation to occur which leads to a cooling effect on the fabric.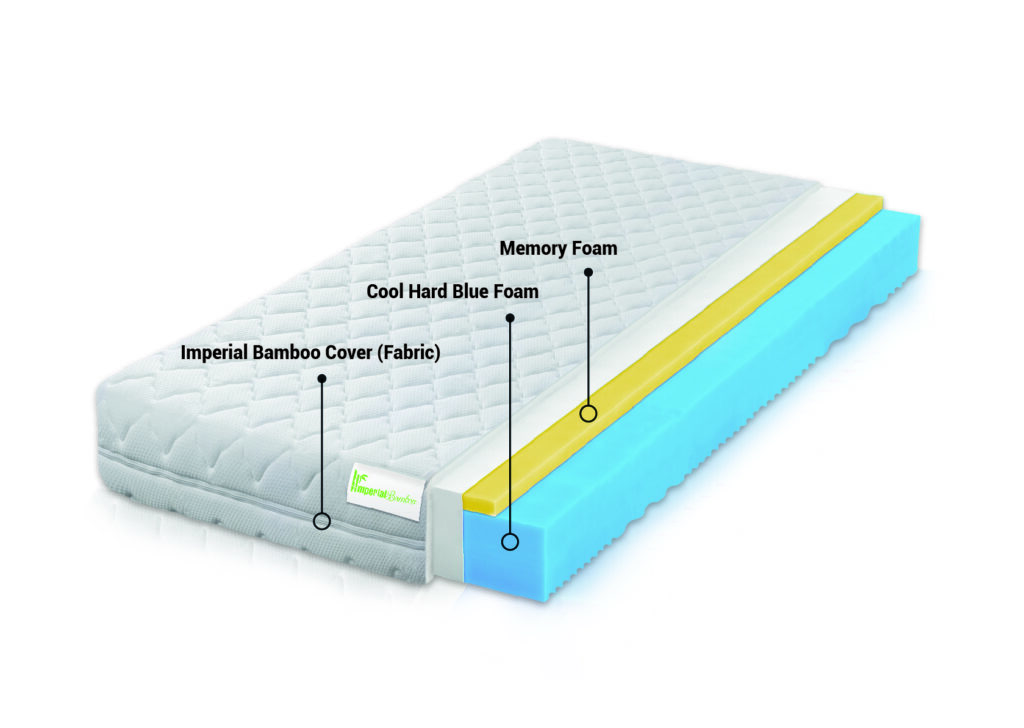 Mattress Type:
"6" or "8" or "10" or '12″Memory Foam Mattress Comfortable+Cool Hard Blue
MATTRESS
FEATURES :
stretch fabric used for extra comfort• Deep hand tufted for a better nights
sleep• Mattress is approx 8″-10″-12″ deep• Responsive 40KG  Memory Foam+Cool Hard Blue Foam •
Imperial Bamboo cover offers a cooler nights sleep• Hypo Allergenic• Dust
mite resistant• Contours to your body's natural shape• Relieves points across
the body• Promotes good blood circulation• Medium – Firm comfort rating•
May come vacuum packed or rolled• Handmade in the UK conforming to the
British FR standards•  8″ Hard Blue Foam 2″ Memory foam ("10" Mattress)
(We strongly believe in purchasing from UK based suppliers. Our main aim is to provide you our customer with the best shopping experience possible.)
HEALTH BENEFITS OF THIS MEMORY FOAM MATTRESS:
Head: Our memory foam products can prevent or alleviate headaches, migraines, jaw ache, teeth grinding and tinnitus (Ringing in ears)
Neck: Correct alignment can alleviate general neck and tension pain, reduce discomfort due to vertebrae, nerve, numbness (chronic inflammatory arthritis affecting spinal joints)
Upper Back: Can reduce back, Kyphosis (curvature of the spine) and scoliosis pain and problems
Back & Neck Pain: Correct spinal alignment has many benefits
Lower Back: Appropriate pelvic/lumbar support can greatly lessen lower back
Shoulders: Can reduce fibromyalgia (fibrositis) and frozen shoulder syndrome problems and pain
Hips: Hip irritations and pain can be lessened by reducing pressure points. Provides excellent support after operations and during recovery.
Knees: Can mitigate aching knees, arthritic and cruciate ligament trouble. Provides excellent support after operations.
Our Mattress come rolled –  vacuum packed into a neat, compact package which makes for easy transportation. They're ideal if you live in a high-rise building, a small home or you think it will be difficult to get it to your chosen room. You can also store the rolled mattress in a box for however long you need, making it the perfect purchase for those waiting to move into their new home. If you relate to these scenarios, a roll up mattress might be the ideal solution for you.
Using your roll up mattress
Once your new rolled mattress is ready to be unpackaged, simply move it into its place, whether that be on the floor or a bedframe, and remove the packaging. The roll up mattress will slowly start to rise and transform into shape. Leave the mattress for around 72 hours to ensure it is fully expanded. Once it has fully expanded, it will be ready to sleep on. However, if you have a memory foam rolled mattress, you will need to leave the mattress for up to 3-4 days. This is so it can reach full expansion without suffering any defects.
** If the mattress feel hard all you need to do is to add a Memory foam topper to make it more soft "1"-"3" (can be purchase separately)
*These Images are for illustrative purposes only